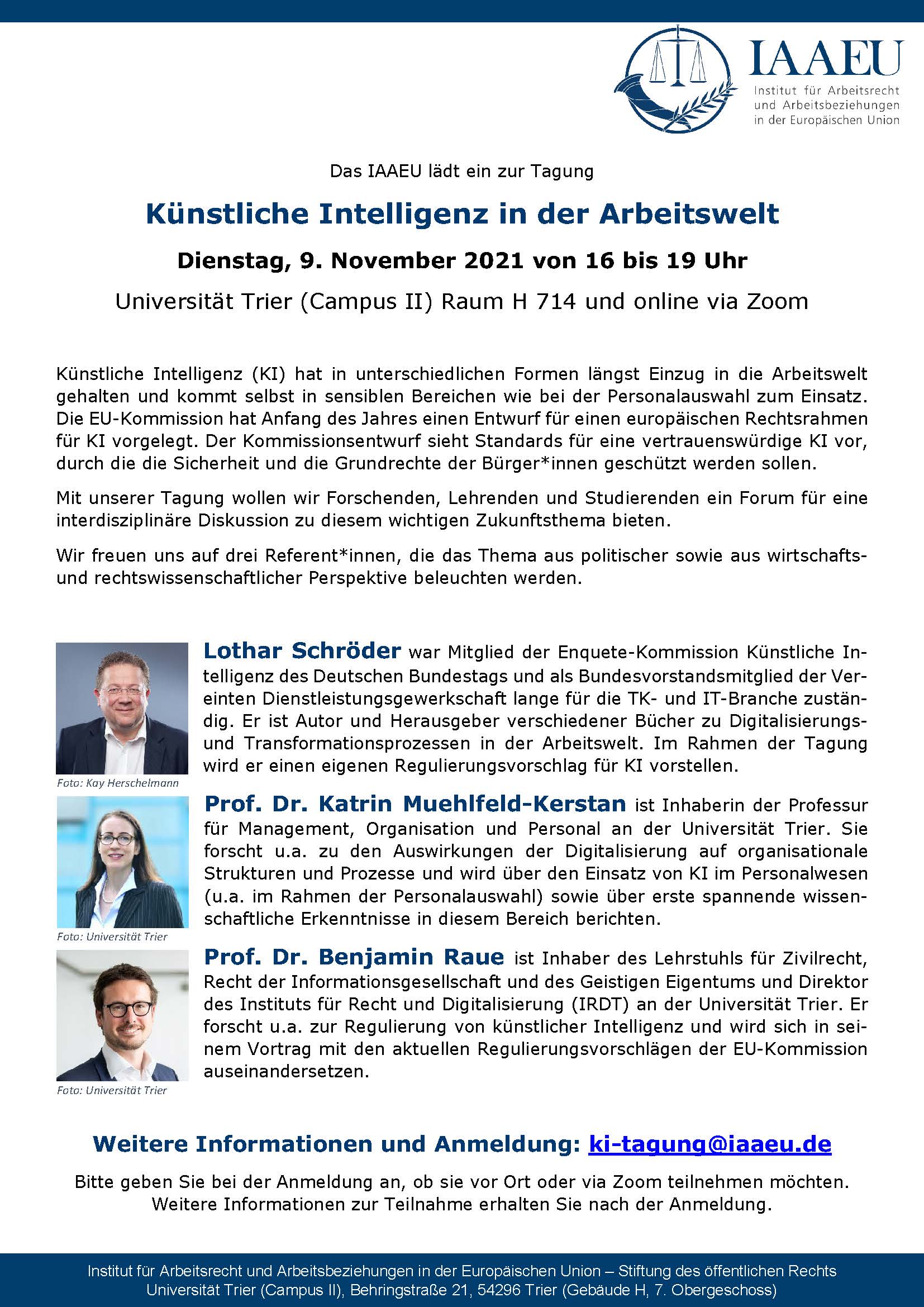 ×
On November 9th 2021, an interdisciplinary conference on "Artificial Intelligence in the Working World", with Lothar Schröder, Prof. Dr. Katrin Muehlfeld-Kerstan and Prof. Dr. Benjamin Raue, took place at the IAAEU. The conference was held using a hybrid format, enabling 25 participants to take part in person and also giving 30 more nationwide participants, and even a few from Austria, the opportunity to attend via Zoom. Lothar Schröder, Prof. Dr. Katrin Muehlfeld-Kerstan and Prof. Dr. Benjamin Raue did an excellent job at highlighting the subject from a political, economical and a legal standpoint. Their introductory presentations created a foundation for subsequent interdisciplinary discussion.
Lothar Schröder, who has been studying the effects of technology and innovation in politics on the economy since 1992, gave an account of his work in the "Enquete-Commission" for artificial intelligence in the German Bundestag. Additionally, he presented a self developed model for the development, establishment and the evaluation of corporal regulation of AI-operations based on trust factors and control indicators.
Prof. Dr. Katrin Muehlfeld-Kerstan, who teaches in the field of Management, Organisation and Human Resources at the University of Trier, precisely illustrated where AI is applied in human resource work. Employing specific examples, she explained the use of AI when recruiting and selecting employees and pointed out the problems that are often faced.
For the final presentation, Prof. Dr. Benjamin Raue, the Chair for Private Law, Intellectual Property Law, and Law of the Information Society and the director of the Institute of Law and Digitalisation at the University of Trier, focused on the regulation proposal brought forward by the European Commission. He displayed the effects of this proposal on the use of AI in the working world and concluded with the question, whether the concept could be seen as a prototype. Dr. Thomas Klein then proceeded to examine this question with all speakers and participants, revealing strengths and weaknesses of the proposal and making the high demand for more research in this area and also in the field of labour law clear.
The IAAEU would like to thank all participants and especially all speakers.
Find the speakers' presentations here:

Presentation of Lothar Schröder

Presentation of Prof. Dr. Katrin Muehlfeld-Kerstan

Presentation of Prof. Dr. Benjamin Raue