Current Events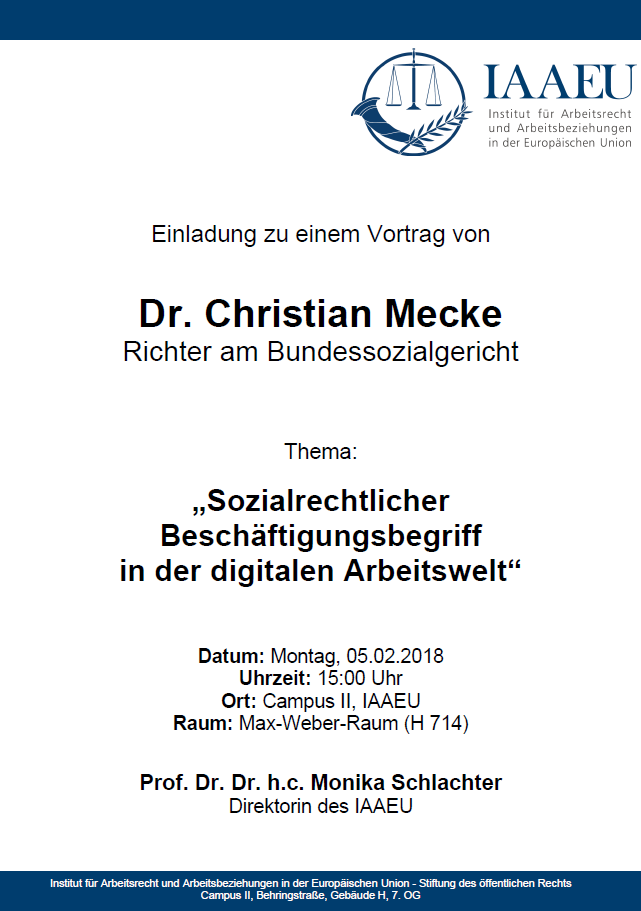 The Institute for Labour Law and Industrial Relations in the European Union (IAAEU) cordially invites you to a lecture by Dr. Christian Mecke, judge at the Federal Social Court, on the topic "The concept of social law employment in the digital working world". The lecture will take place on 05.02.2018 at 15:00 in the Max Weber Room (H718) of the IAAEU at campus 2 of Trier University The event is open to the public.
Review
The Hugo Sinzheimer Institute for Labour Law (HSI) in Frankfurt and the Institute for Labour Law and Industrial Relations in the European Union (IAAEU) in Trier continue their cooperation in setting up conferences on International Labour Law.
"Social Pillar – Social Europe?
– International Labour Law as a Stimulus for Better Social Integration – Aspirations and Reality"
We look forward to exploring and discussing the potential, a 'social pillar' for the EU could provide in intensifying the hitherto to underdeveloped ties between Union law and International Labour Law's social standards. Topics to be dealt with specifically will include: international fundamental labour rights and the CJEU's extensive interpretation of EU fundamental freedoms; dismissal protection; working time; equal protection for migrant and posted workers.
Friday, 22 September 2017 (9 am to 4 pm)
Program
8:30

Registration

9:00-9:15
Welcome of participants and introduction to the program
Monika Schlachter, IAAEU, Trier University
9:15-9:45

"Embedded Constitutionalism. Social Rights in the Jurisprudence of the German Federal Constitutional Court"

Susanne Baer, Judge, German Federal Constitutional Court
9:45-10:15

"International law as a stimulus for developing social rights in the jurisprudence of the CJEU"

Ninon Colneric, former Judge, Court of Justice of the European Union
10:15-10:45

Coffee Break

10:45-11:15

"Balancing Social rights and economic freedoms – developments under the influence of international law"

Nicola Countouris, University College, London

11:15-11:45

"International social standards of dismissal protection"

Mijke Houverzijl, Tilburg University/ Groningen University

11:45-12:10

Discussion for both presentations

12:10-13:00
Lunch
13:00-13:30

"International social standards of working time regulation"
Achim Seifert, Universität Jena

13:30-14:00

"The Social Pillar, and International Employment Law: back to the Future (of Work)?"
Jeremias Prassl, Oxford University

14:00-14:25

Discussion for both presentations

14:25-14:40
Coffee Break
14:40-15:00

"Social dialogue and worker involvement under the "Social Pillar"
Pieter Pecinovsky, Leuven University

15:00-15:20

"Social rights for informal workers – cost efficiency included"
Calogero Massimo Cammalleri, Palermo University

15:20-16:00

Round table discussion on the Development of social rights
chaired by Beryl ter Haar

16:00

Closing

Johannes Heuschmid, Hugo Sinzheimer Institute, Frankfurt
2016
12.12.2016
Dr. Lena Oerder (SLT Kanzlei für Arbeitsrecht, Düsseldorf)
"

Entgeltgleichheit per Gesetz? - Welche Fortschritte sind von dem geplanten Gesetz für mehr Lohngerechtigkeit zu erwarten?"

11.07.2016
Katrin Löber (Gewerkschaft Erziehung und Wissenschaft (GEW))
"Das Streikrecht verbeamteter Lehrerinnen und Lehrer"
23.05.2016
Daniel Hlava (Hugo Sinzheimer Institut für Arbeitsrecht in Frankfurt a. M. (HSI)
"Der gesetzliche Mindestlohn - Ein Anspruch und seine Durchsetzung"
15.02.2016
Kristina Schmidt (Richterin am Bundesarbeitsgericht)

"Befristete Arbeitsverträge im Spiegel der Rechtsprechung des Bundesarbeitsgerichts"

19.01.2016
Dr. Thomas Klebe (Leiter des Hugo Sinzheimer Instituts in Frankfurt) and Dr. Johannes Heuschmid (stellv. Leiter des HSI)
Juristisch ökonomischer Workshop zum Thema "Crowdwork"
18.01.2016
Dr. Jürgen Treber (Richter am Bundesarbeitsgericht)
"Von 'Werhof' über 'Alemo-Herron' zu…? Dynamische Inbezugnahme von Tarifverträgen und Betriebsübergang"
2015
| | |
| --- | --- |
| 20.07.2015 | Dr. Christian-Armand Houben (Richter am Arbeitsgericht Trier) and Alexander Bergweiler (Rechtsanwalt, König Rechtsanwälte Trier) |
| | "Einer flog übers Kuckucksnest – Das BAG zwischen untätigem Gesetzgeber, umtriebigem EuGH und pragmatischen Lösungen" |
| | |
| 29.04.2015 | Prof. Dr. Philipp Fischinger, LL.M. (Harvard), Universität Mannheim |
| | "Rechtsprobleme des neuen Mindestlohns" |
| | |
| 20.04.2015 | François Biltgen (Richter am EuGH) |
| | "Grundprinzipien der Rechtsprechung des EuGH in Sachen Grundfreiheiten und Grundrechtecharta" |
2014
| | |
| --- | --- |
| 12.05.2014 | Dr. Boris Alles, Rechtsanwalt, CMS Hasche Sigle, Frankfurt/Main, am IAAEU in Trier. |
| | "Social Media und Arbeitsrecht" |
| | |
| 13.01.2014 | Raphaël Callsen, Maître en droit, Goethe-Universität Frankfurt/Main, am IAAEU in Trier |
| | "Grundrechtsgeleitete Anwendung von Eingriffsnormen und Ordre public-Vorbehalt im Internationalen Arbeitsrecht". |
| | |
| 07.01.2014 | Prof. Dr. Wolfgang Däubler, Universität Bremen, am IAAEU in Trier. |
| | "Entgrenzung der Arbeit" |
2013
| | |
| --- | --- |
| 22.04.2013 | Antonius Allgaier (SOKA-BAU, Wiesbaden) |
| | "Betriebliche Altersversorgung im europäischen Kontext". |
| | |
2012
| | |
| --- | --- |
| 26.11.2012 | Alexander Bergweiler and Dr. Christian-Armand Houben |
| | "Sanierung durch Personalabbau - Was wartet am Ende des Regenbogens: Der Kessel voll Gold oder die Masseunzulänglichkeit?" |
| | |
| 12.10.2012 | Konferenz im ERA-Conference Center Trier |
| | "Soziale Grundrechte im europäischen Mehrebenensystem" |
| | |
| 16.07.2012 | Dr. Gerrit Forst |
| | "Whistleblowing im internationalen Vergleich" |
| | |
| 11.07.2012 | Prof. Dr. Tamas Prugberger |
| | "Die aktuelle Entwicklung im Arbeitsrecht in Ungarn" |
| | |
| 18.06.2012 | Alexander Bergweiler and Dr. Christian-Armand Houben |
| | "Mit einer Kündigung vor dem Arbeitsgericht oder Warum Arbeitgeber gerne eine Abfindung zahlen" |
| | |
| 23.04.2012 | Oliver Reisinger |
| | "Die Vertretung der BRD in Arbeitsrechtssachen vor dem EuGH" |
| | |
| 06.02.2012 | Wolfgang Koberski |
| | "Entwicklung des Arbeitnehmerentsendegesetzes" |
| | |